Pharmaceutical Waste Disposal
Managing your pharmaceutical waste can be a daunting task. GoSharps specializes in streamlining the pharmaceutical waste disposal process so that your office can run fully compliant while also being efficient.
Whether you are a small office, a hospital, or a compounding pharmacy, we can create a custom solution for all your pharmaceutical disposal needs.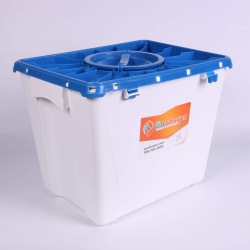 Pharmaceutical Services Offered
Pharmaceutical Waste Disposal
(such as vials, containers, blister packs.)
Expired Pharmaceutical Disposal
RCRA Hazardous Pharmaceutical Disposal
Trace Chemotherapy Disposal
Compounding Pharmacy Waste
DEA Regulated Narcotic Disposal
Pharmaceutical Disposal Compliance Training